Happy new year!
We hope you all had an excellent 2017. Here at Island Homes Group, we had a fantastic and productive year.
Here is a market update to bring you all up to speed for the new year.
During December 2017, 426 residential sales took place in Greater Victoria. This represented a drop from 628 units sold during November. However, a December drop in sales fits a regular pattern for home sales during previous winters (428 units sold in December 2016). Below you will find a chart of benchmark prices for different regions in Greater Victoria and beyond that illustrates comparative growth in single-family home price by region over the past 60 months.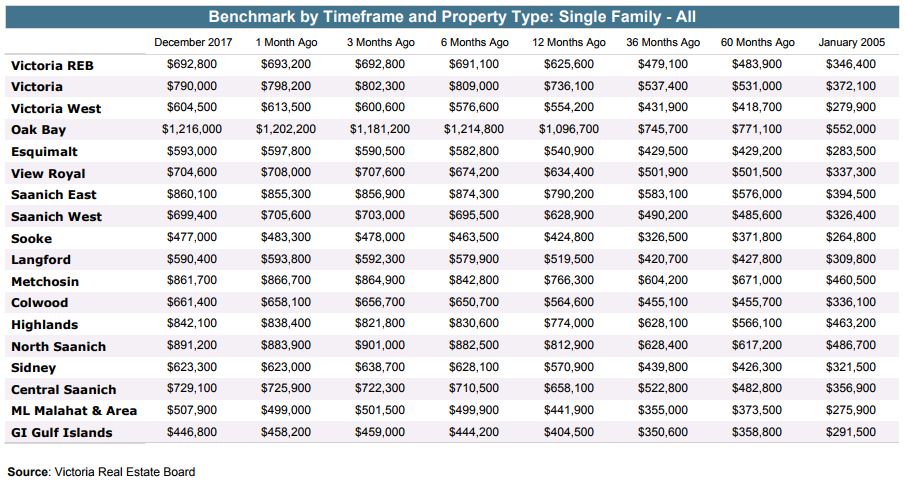 Three of the larger stories in local real estate last month were the introduction of the new mortgage stress test rules, assessment values, and the continued strength of the BC market.
Beginning January 1, the Office of the Superintendent of Financial Institutions implemented new rules for home buyers requiring that they be able to withstand either a rate increase of two percentage points higher than the mortgage they have been granted or the five-year posted rate (currently 4.99%). Moving forward, this rule could keep some new buyers out of the market and mean that other buyers purchase less expensive properties than they previously would have. However, many economists doubt the new rule will negatively affect what remains a historically strong market.
BC Assessment has released its figures for property values throughout the province, with values in Greater Victoria and the rest of Vancouver Island reaching historic highs. The British Columbia government has responded to these high values by increasing the qualification threshold for BC Home Owner Grants. This increase is geared to ensure that home owners who saw substantial rises in their home's value are not excluded from the program. Additionally, home owners who disagree with the assessed value of their home have until the end of the month to dispute their assessment with the agency. However, experts recommend that one fully understand the assessment process and how their property figures into it before beginning the process.
For the coming year, economists are predicting that their will be fewer home sales than 2017 or 2016, but that prices will continue to rise in what remains a stable market. A main factor in British Columbia's (and Canada as a whole's) sustained property values continues to be British Columbia's stature as a premier location for real estate investment and general desirability for residents.
That's it for this month. We hope you all had an excellent holiday season and are excited for the new year!
As always, if you are interested in learning how the current market conditions affect you or your investments, would like a market analysis of your property, or if we can be of assistance in any way at all, please don't hesitate to give us a call (250-886-8520) or send us an email (info@island-homes.ca).
Sincerely,
Island Homes Group
info@island-homes.ca
facebook.com/islandhomesgroup/
250-886-8520
4440 Chatterton Way
Victoria BC
V8X5J2